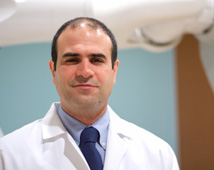 Dr. Nasr is a graduate of The University of Virginia and received his M.D. from The Virginia Commonwealth University School of Medicine in Richmond, VA. After his internship in Internal Medicine at Virginia Commonwealth University School of Medicine, Dr. Nasr completed his residency in Radiation Oncology at Georgetown University Hospital, where he was named Chief Resident.
An advocate of clinical research, Dr. Nasr has published on a variety of topics including spinal tumors, pancreatic cancer, and melanoma. He has extensive experience and has authored several publications on the application of the Cyberknife System in clinical care. He has also presented his research at national meetings including The American Society for Therapeutic Radiology and Oncology (ASTRO), The American Society for Clinical Oncology (ASCO), and The Cyberknife Society.
Prior to joining Arlington Radiation Oncology, Dr. Nasr served as Medical Director of The Regional Oncology Center at Albermarle Hospital in Elizabeth City, NC as a member of Virginia Oncology Associates.
Of note, Dr. Nasr is fluent in three languages; English, French, and Arabic. He currently lives in Arlington, VA with his wife and two children.
Dr. Nasr is a Clinical Assistant Professor at Georgetown University Hospital and George Washington University Hospital.